Vancouver Imaging has the functional expertise to deliver high-level interpretive and consulting professional services that encompass all the current diagnostic imaging modalities on a 24/7 basis, with a rapid turn-around time. The clinical support services we provide include:
Subspecialist Image Consultation
Interventional Radiology
CT/MR Protocol & Low Dose Radiation Consulting
Third Party Peer Review
Teleradiology
Where We Support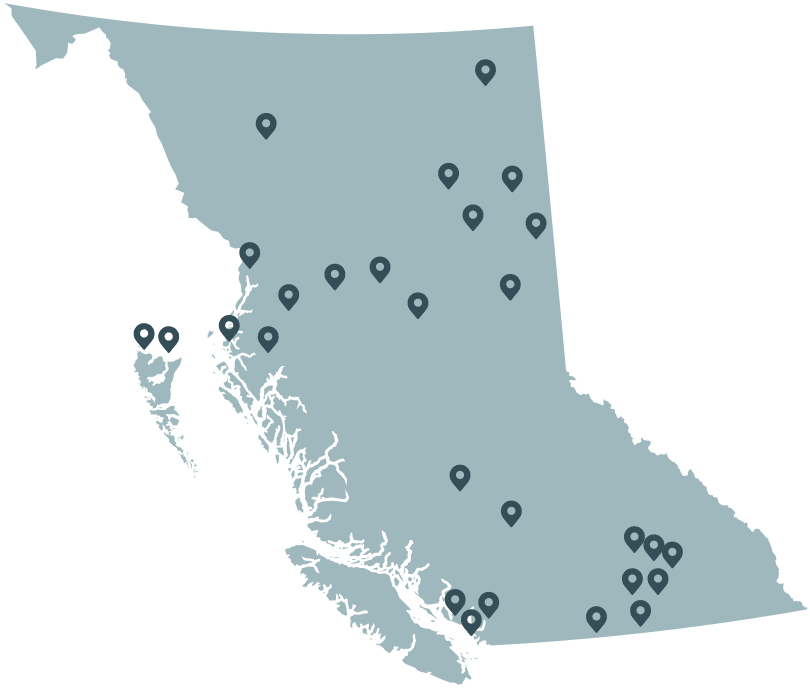 Vancouver Imaging provides radiologist coverage throughout British Columbia. We work with the Vancouver Coastal Health Authority, the Provincial Health Services Authority, the Northern Health Authority and the Interior Health Authority.
Health Authorities
To see which hospitals our radiologists support, please select the Health Authority you wish to explore.
Vancouver Coastal Health Authority ("VCH")

Within VCH, Vancouver Imaging has supported the radiology services at two hospital sites, Vancouver General Hospital and University of British Columbia Hospital, for many years. Since it was built in 1906, Vancouver General Hospital has grown to become the largest hospital in British Columbia and the only Level 1 tertiary care center in the province. The University of British Columbia Hospital opened in 1968 on the endowment lands of the University of British Columbia. Due to their affiliation with the medical school at the University of British Columbia, both Vancouver General Hospital and the University of British Columbia Hospital are teaching hospitals.

Provincial Health Services Authority ("PHSA")

PHSA was formed in 2001 with a mandate to provide specialized health services in British Columbia. Within the PHSA portfolio, the B.C. Women's Hospital is the largest maternity hospital in Canada, responsible for the health of women and newborns. Vancouver Imaging identified the lack of radiology care being provided to adult female patients at B.C. Women's Hospital, and has been delivering interpretative and clinical care on both an on-site and remote basis since 2017.

Interior Health Authority ("IHA")

IHA is responsible for handling the integrated health services of 59 municipalities within the Thompson Cariboo Shuswap, Okanagan, Kootenay Boundary and East Kootenay Districts of British Columbia. Since 2014, Vancouver Imaging has offered various levels of radiology support to IHA. At the current time, Vancouver Imaging is maintaining after-hours support for hospitals under the governance of IHA.

Northern Health Authority ("NHA")

NHA is the largest health authority in British Columbia, comprised of 3 regions – West, Interior and East. In 2017, Vancouver Imaging responded to a plea by NHA West and completed a vital peer review of over 8,000 scans within 5 weeks. After demonstrating its high caliber of reporting in the peer review, Vancouver Imaging began to supply after-hours support to hospitals within NHA West. After-hours support has been accorded to 6 hospitals within NHA East since 2019.

NHA West

NHA East
Clinic
Canada Diagnostic Centres (CDC)
Since 1999, CDC has been offering diagnostic scans and pain management procedures privately to Vancouver residents. Their diagnostic services include MRI, CT, ultrasound, breast and screening exams. Radiologists of Vancouver Imaging have been interpreting scans and performing procedures for the clinic since the beginning. In 2017, Vancouver Imaging purchased an ownership interest in CDC. Vancouver Imaging is the preferred care provider for several professional sports teams such as the Vancouver Canucks and Vancouver Whitecaps FC.
Canada Diagnostic Centres