Our Radiologists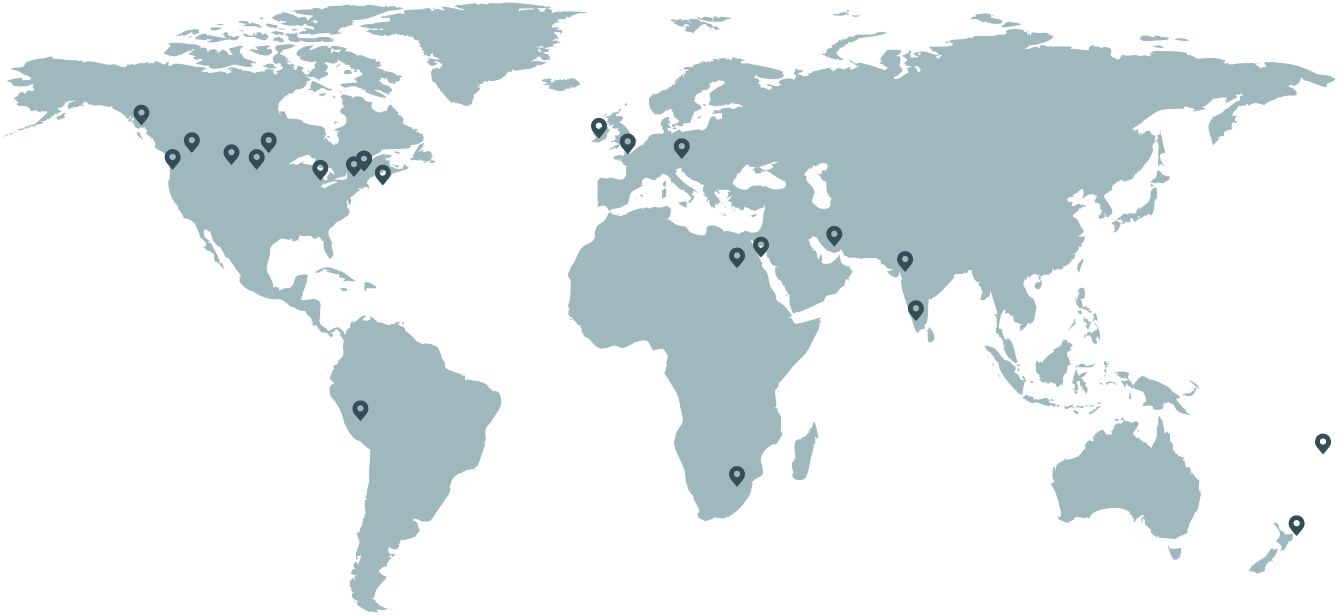 Vancouver Imaging is comprised of sub-specialty trained radiology partners and members from different parts of the world. Many of our radiologists completed their fellowship with Vancouver Imaging and have stayed on to become partners.
Dr. Ismail Ali
MBChB, FRCPC
Dr. Ismail Ali
MBChB, FRCPC
Subspecialty: Emergency & Trauma
Hospital Appointments /Privileges: VGH Emergency & Trauma Division Head, Vancouver Coastal Health, Provincial Health Services Authority, Northern Health Authority, Interior Health Authority.
University of British Columbia Appointments: Clinical Assistant Professor, Director of Emergency & Trauma Fellowship
Dr. Gordon Andrews
MD, FRCPC
Dr. Gordon Andrews
MD, FRCPC
Subspecialty: Musculoskeletal, Emergency & Trauma
Hospital Appointments /Privileges: Vancouver Coastal Health, Interior Health Authority, Northern Health Authority
University of British Columbia Appointments: Clinical Professor, Site Head for the UBC Department of Radiology
Canada Diagnostic Center: Medical Head
Dr. Sarah Barrett
MBChB, FRCPC
Dr. Sarah Barrett
MBChB, FRCPC
Subspecialty: Abdominal, Emergency & Trauma
Hospital Appointments /Privileges: Vancouver Coastal Health, Provincial Health Services Authority, Northern Health Authority, Interior Health Authority
University of British Columbia Appointments: Clinical Instructor, Co-Director of Emergency & Trauma Fellowship
Dr. Ana-Maria Bilawich
MD, FRCPC
Dr. Ana-Maria Bilawich
MD, FRCPC
Subspecialty: Cardiothoracic, Emergency & Trauma
Hospital Appointments /Privileges: VGH Cardiothoracic Division Head, Vancouver Coastal Health, Provincial Health Services Authority, Northern Health Authority, Interior Health Authority
University of British Columbia Appointments: Clinical Associate Professor, Co-Director Cardiothoracic Imaging Fellowship
Dr. Silvia Chang
MD, FRCPC, FSAR, FCAR
Dr. Silvia Chang
MD, FRCPC, FSAR, FCAR
Hospital Appointments /Privileges: VGH Abdominal Division Head, Vancouver Coastal Health, Provincial Health Services Authority
University of British Columbia Appointments: Academic Associate Professor, Vice Chair of Professionalism and Wellness, Abdominal Imaging Fellowship Director, Associate Member in Department of Urological Sciences
Dr. Jason Chew
MBChB, FRANZCR, FRCPC
Dr. Jason Chew
MBChB, FRANZCR, FRCPC
Subspecialty: Neuroradiology
Hospital Appointments /Privileges: Vancouver Coastal Health, Provincial Health Services Authority, Interior Health Authority
University of British Columbia Appointments: Clinical Instructor
Dr. Ravjot Dhatt
MD, FRCPC
Dr. Ravjot Dhatt
MD, FRCPC
Subspecialty: Body Interventional, Emergency Trauma
Hospital Appointments /Privileges: Staff Pediatric Interventional Radiologist at BC Children's Hospital, Vancouver Coastal Health, Provincial Health Services Authority, Northern Health Authority, Interior Health Authority
University of British Columbia Appointments: Clinical Instructor
Dr. Bruce Forster
MSc, MD, FRCPC, FCAR
Dr. Bruce Forster
MSc, MD, FRCPC, FCAR
Subspecialty: Musculoskeletal, Emergency & Trauma
Hospital Appointments /Privileges: Vancouver Coastal Health, Provincial Health Services Authority, Northern Health Authority, Interior Health Authority
University of British Columbia Appointments: Academic Full Professor, Member of the IOC, Medical and Scientific Games Group President Canadian Radiologic Foundation
Dr. William Guest
MD, PhD, FRCPC, DABR
Dr. William Guest
MD, PhD, FRCPC, DABR
Subspecialty: Interventional Neuroradiology, Emergency & Trauma
Hospital Appointments /Privileges: Vancouver Coastal Health, Provincial Health Services Authority, Northern Health Authority, Interior Health Authority
University of British Columbia Appointments: Clinical Assistant Professor
Dr. Anastasia Hadjivassiliou
MBBS, FRCPC
Dr. Anastasia Hadjivassiliou
MBBS, FRCPC
Subspecialty: Body Interventional
Hospital Appointments /Privileges: Vancouver Coastal Health
University of British Columbia Appointments: Clinical Instructor, Radiology Fellowship Director
Dr. Alison Harris
MBChB, FRCPC
Dr. Alison Harris
MBChB, FRCPC
Subspecialty: Abdominal
Hospital Appointments /Privileges: VGH Abdominal Imaging & Genitourinary Intervention Division Head, President of the Vancouver Medical Dental and Allied Staff Association, Vancouver Coastal Health, Provincial Health Services Authority, Interior Health Authority
University of British Columbia Appointments: Clinical Professor
Dr. Manraj Heran
MD, FRCPC
Dr. Manraj Heran
MD, FRCPC
Subspecialty: Interventional Neuroradiology
Hospital Appointments /Privileges: Staff Pediatric Interventional Radiologist at BC Children's Hospital, Fellowship Director for the Diagnostic Neuroradiology Fellowship Program at VGH, Vancouver Coastal Health, Provincial Health Services Authority, Interior Health Authority
University Appointments: Academic Associate Professor
Dr. Stephen Ho
MD, FRCPC
Subspecialty: Body Interventional
Hospital Appointments/Privileges: Staff Pediatric Interventional Radiologist at BC Children's Hospital, Vancouver Coastal Health, Provincial Health Services Authority, Interior Health Authority
University of British Columbia Appointments: Clinical Professor
Dr. Faisal Khosa
MBBS, FRCPC
Dr. Faisal Khosa
MBBS, FRCPC
Subspecialty: Emergency & Trauma
Hospital Appointments /Privileges: Vancouver Coastal Health, Provincial Health Services Authority, Northern Health Authority, Interior Health Authority
University of British Columbia Appointments: Academic Associate Professor, Head of Grants and International Collaborations in Emergency & Trauma Radiology Fellowship Program
Dr. Darren Klass
MBChB, MD, FRCPC
Dr. Darren Klass
MBChB, MD, FRCPC
Subspecialty: Body Interventional, Emergency & Trauma
Hospital Appointments /Privileges: Medical Head of MRI, Vancouver Coastal Health, Provincial Health Services Authority, Northern Health Authority, Interior Health Authority
University of British Columbia Appointments: Clinical Associate Professor
Dr. Gerald Legiehn
MD, FRCPC
Dr. Gerald Legiehn
MD, FRCPC
Subspecialty: Body Interventional
Hospital Appointments /Privileges: VGH Interventional Radiology Division Head, Vancouver Coastal Health, Provincial Health Services Authority
University of British Columbia Appointments: Clinical Associate Professor, Medical Quality and Safety Officer & UBC Vice-Chair of Quality
Dr. David Liu
MD, FRCPC
Subspecialty: Body Interventional
Hospital Appointments /Privileges: Radiology Consultant for the Canadian Armed Forces, Vancouver Coastal Health, Provincial Health Services Authority, Northern Health Authority, Interior Health Authority
University of British Columbia Appointments: Academic Full Associate Professor with joint appointment at the School of Biomedical Engineering, UBC Faculty of Applied Science and the Radiology Department, UBC Faculty of Medicine
Dr. Luck Louis
MD, FRCPC
Subspecialty: Musculoskeletal, Emergency & Trauma
Hospital Appointments /Privileges: VGH Director of Musculoskeletal Ultrasound, Vancouver Coastal Health, Provincial Health Services Authority, Northern Health Authority, Interior Health Authority
University of British Columbia Appointments: Clinical Professor, Chair ACSERT Correlation Rounds
Dr. Daniel Lyndon
MD, FRCPC
Dr. Daniel Lyndon
MD, FRCPC
Subspeciality: Emergency & Trauma, Neuroradiology
Hospital Appointments /Privileges: Vancouver Coastal Health, Provincial Health Services Authority, Northern Health Authority, Interior Health Authority
University of British Columbia Appointments: Clinical Instructor
Dr. Lindsay Machan
MD, FRCPC
Dr. Lindsay Machan
MD, FRCPC
Subspecialty: Body Interventional
Hospital Appointments /Privileges: Vancouver Coastal Health Authority
University of British Columbia Appointments: Academic Part-Time Professor, Associate Member of the Division of Vascular Surgery, Associate Member of the Department of Urologic Sciences
Dr. Paul Mallinson
MBChB, FRCPC
Dr. Paul Mallinson
MBChB, FRCPC
Subspecialty: Musculoskeletal, Emergency & Trauma
Hospital Appointments /Privileges: Vancouver Coastal Health, Provincial Health Services Authority, Northern Health Authority, Interior Health Authority
University of British Columbia Appointments: Clinical Assistant Professor
Dr. John Mayo
MD, FRCPC
Subspeciality: Cardiothoracic
Hospital Appointments /Privileges: Vancouver Coastal Health, Provincial Health Services Authority
University of British Columbia Appointments: Academic Full Professor with join appointment in the Departments of Radiology & Cardiology
Dr. Parmiss Mojtabaie
MD, FRCPC
Dr. Parmiss Mojtabaie
MD, FRCPC
Subspeciality: Emergency & Trauma, Cardiothoracic
Hospital Appointments /Privileges: Vancouver Coastal Health, Provincial Health Services Authority, Northern Health Authority, Interior Health Authority
University of British Columbia Appointments: Clinical Instructor
Dr. Nestor Muller
MD, FRCPC
Dr. Nestor Muller
MD, FRCPC
Subspeciality: Cardiothoracic
Hospital Appointments /Privileges: Vancouver Coastal Health, Provincial Health Services Authority
University of British Columbia Appointments: Professor Emeritus
Dr. Peter Munk
MDCM, FRCPC, FSIR, FFRRCSI (hon)
Dr. Peter Munk
MDCM, FRCPC, FSIR, FFRRCSI (hon)
Subspecialty: Musculoskeletal, Emergency & Trauma
Hospital Appointments /Privileges: Vancouver Coastal Health, Provincial Health Services Authority, Northern Health Authority, Interior Health Authority
University of British Columbia Appointments: Academic Part-Time Professor of Radiology, Orthopedics, and Palliative Care
Dr. Nicolas Murray
MD, FRCPC
Dr. Nicolas Murray
MD, FRCPC
Subspecialty: Emergency & Trauma
Hospital Appointments /Privileges: Vancouver Coastal Health, Provincial Health Services Authority, Northern Health Authority, Interior Health Authority
University of British Columbia Appointments: Clinical Assistant Professor
Dr. Savvas Nicolaou
MD, FRCPC
Dr. Savvas Nicolaou
MD, FRCPC
Subspecialty: Emergency & Trauma
Hospital Appointments/Privileges: Head of Department & Medical Director of Medical Imaging for Vancouver Acute, Vancouver Coastal Health, Provincial Health services Authority, Northern Health Authority, Interior Health Authority
University of British Columbia Appointments: Academic full Professor, Vice-Chair of CPD, Emergency & Trauma Fellowship Co-Director, Member of Senate Elected by Joint Faculties, Theme Lead for Diagnostic Radiology in Medical Undergraduate Curriculum
Dr. Elaine Ni Mhurchu
MD, FRCPC
Dr. Elaine Ni Mhurchu
MD, FRCPC
Subspeciality: Neuroradiology
Hospital Appointments /Privileges: Vancouver Coastal Health, Provincial Health Services Authority, Northern Health Authority, Interior Health Authority
University of British Columbia Appointments: Clinical Instructor
Dr. Hugue Ouellette
MD, FRCPC
Dr. Hugue Ouellette
MD, FRCPC
Subspecialty: Musculoskeletal
Hospital Appointments /Privileges: VGH-UBCH Musculoskeletal Division Head, Vancouver Coastal Health, Provincial Health Services Authority, Northern Health Authority, Interior Health Authority
University of British Columbia Appointments: Clinical Professor, Musculoskeletal Radiology Fellowship Director
Dr. Emily Pang
MD, FRCPC
Subspecialty: Abdominal
Hospital Appointments /Privileges: Vancouver Coastal Health, Provincial Health Services Authority, Northern Health Authority, Interior Health Authority
University of British Columbia Appointments: Clinical Assistant Professor
Dr. Dennis Parhar
MD, FRCPC
Dr. Dennis Parhar
MD, FRCPC
Subspeciality: Interventional, Emergency & Trauma
Hospital Appointments /Privileges: Vancouver Coastal Health, Provincial Health Services Authority, Northern Health Authority, Interior Health Authority
University of British Columbia Appointments: Clinical Instructor
Dr. William Parker
MD, FRCPC
Dr. William Parker
MD, FRCPC
Subspeciality: Emergency & Trauma, Cardiothoracic
Hospital Appointments /Privileges: Vancouver Coastal Health, Provincial Health Services Authority, Northern Health Authority, Interior Health Authority
University of British Columbia Appointments: Clinical Instructor
Dr. Shamir Rai
MD, FRCPC
Subspecialty: Emergency & Trauma
Hospital Appointments /Privileges: Vancouver Coastal Health, Provincial Health Services Authority, Northern Health Authority, Interior Health Authority
University of British Columbia Appointments: Clinical Instructor, Director of Emergency & Trauma Fellowship
Dr. Axel Rohr
PD Dr med habil (Germany) / MD, PhD
Dr. Axel Rohr
PD Dr med habil (Germany) / MD, PhD
Subspecialty: Diagnostic and Interventional Neuroradiology
Hospital Appointments /Privileges: Vancouver Coastal Health, Provincial Health Services Authority
University of British Columbia Appointments: Clinical Associate Professor, Director of Interventional Neuroradiology Fellowship Program
Dr. Farahna Sabiq
MD, FRCPC
Dr. Farahna Sabiq
MD, FRCPC
Subspecialty: Neuroradiology
Hospital Appointments /Privileges: Vancouver Coastal Health, Provincial Health Services Authority
University of British Columbia Appointments: Clinical Assistant Professor, Director of Diagnostic Neuroradiology Residency and Fellowship Programs
Dr. Anto Sedlic
MD, FRCPC
Dr. Anto Sedlic
MD, FRCPC
Subspecialty: Cardiothoracic, Emergency & Trauma
Hospital Appointments /Privileges: Vancouver Coastal Health, Provincial Health Services Authority, Northern Health Authority, Interior Health Authority
University of British Columbia Appointments: Clinical Assistant Professor, Assistant Director of Radiology Residency Program
Dr. Fabio Settecase
MD, MSc, FRCPC
Dr. Fabio Settecase
MD, MSc, FRCPC
Subspecialty: Interventional Neuroradiology
Hospital Appointments /Privileges: Vancouver Coastal Health, Provincial Health Services Authority
University of British Columbia Appointments: Clinical Assistant Professor
Dr. Adnan Sheikh
MD, FASER, FCAR
Dr. Adnan Sheikh
MD, FASER, FCAR
Subspecialty: Musculoskeletal, Emergency & Trauma
Hospital Appointments /Privileges: Director of Musculoskeletal MRI and Research, Vancouver Coastal Health, Provincial Health Services Authority, Northern Health Authority, Interior Health Authority
University of British Columbia Appointments: Clinical Associate Professor, Medical Director: 3D Printing Program at The Ottawa Hospital
Dr. Jason Shewchuk
MD, FRCPC
Dr. Jason Shewchuk
MD, FRCPC
Subspecialty: Neuroradiology
Hospital Appointments/Privileges: VGH Neuroradiology Division Head, Vancouver Coastal Health, Provincial Health Services Authority
University of British Columbia Appointments: Clinical Associate Professor
Dr. Gavin Sugrue
MBBCh BAO, FRCPC
Dr. Gavin Sugrue
MBBCh BAO, FRCPC
Subspecialty: Abdominal, Emergency & Trauma
Hospital Appointments /Privileges: Vancouver Coastal Health, Provincial Health Services Authority, Northern Health Authority, Interior Health Authority
University of British Columbia Appointments: Clinical Instructor
Dr. Talia Vertinsky
MD, FRCPC
Dr. Talia Vertinsky
MD, FRCPC
Subspecialty: Neuroradiology
Hospital Appointments /Privileges: Vancouver Coastal Health, Provincial Health Services Authority
University of British Columbia Appointments: Clinical Associate Professor
Dr. Jimmy Tanche Wang
MD, FRCPC
Dr. Jimmy Tanche Wang
MD, FRCPC
Subspeciality: Emergency & Trauma
Hospital Appointments /Privileges: Vancouver Coastal Health, Provincial Health Services Authority, Northern Health Authority, Interior Health Authority
University of British Columbia Appointments: Clinical Instructor
Dr. William Yee
MD, FRCPC
Dr. William Yee
MD, FRCPC
Subspecialty: Abdominal
Hospital Appointments /Privileges: Vancouver Coastal Health, Provincial Health Services Authority, Northern Health Authority
University of British Columbia Appointments: Clinical Associate Professor
Dr. Charles Zwirewich
MD, FRCPC
Dr. Charles Zwirewich
MD, FRCPC
Subspecialty: Abdominal
Hospital Appointments /Privileges: Vancouver Coastal Health, Provincial Health Services Authority
University of British Columbia Appointments: Clinical Professor